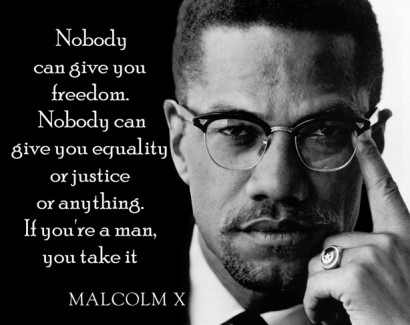 Today May 19th is the birthday of Malcolm X. Let remember our Black Prince today by reading some of his words of wisdom.
A man who stands for nothing will fall for anything.
Malcolm X
If you have no critics you'll likely have no success.
Malcolm X
Education is the passport to the future, for tomorrow belongs to those who prepare for it today.
Malcolm X
There is no better than adversity. Every defeat, every heartbreak, every loss, contains its own seed, its own lesson on how to improve your performance the next time.
Malcolm X
Don't be in a hurry to condemn because he doesn't do what you do or think as you think or as fast. There was a time when you didn't know what you know today.
Malcolm X
You can't separate peace from freedom because no one can be at peace unless he has his freedom.
Malcolm X
Happy Birthday Malcolm X, we will always remember you for the contribution you have made to this world. You always spoke the truth and what you felt in your heart even if the whole world was against it.
We will always miss our 'Shining Black Prince'.