Tornadoes erupting across the Midwest and Plains left five people dead and several others injured in Oklahoma and damaged houses, a hospital, a jail, an Air Force base and other buildings during a weekend outburst of severe weather, authorities said.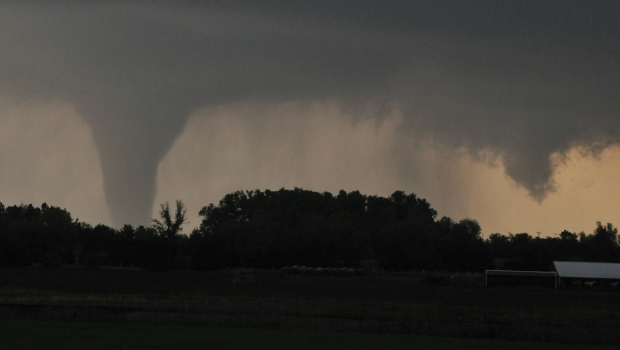 Oklahoma emergency officials said five people died before dawn Sunday after a tornado hit in and around the northwest Oklahoma town of Woodward, the high winds damaging homes, toppling trees and downing power lines in that area about 140 miles northwest of Oklahoma City. The brunt of the damage was reported on the west side of the town of about 12,000, and in the neighboring community of Tangier.
Storms also were reported in Kansas, Iowa and Nebraska as a severe storm system raked its way across the nation's midsection Saturday and Sunday. Lightning, large hail and heavy downpours accompanied the system.
The Storm Prediction Center in Norman, Okla., which specializes in tornado forecasting, had warned of a "high-end, life-threatening event" nearly two days before the bad weather hit. It was just the second time in U.S. history that the center issued a high-risk warning more than 24 hours in advance. The first was in April 2006, when nearly 100 tornadoes tore across the southeastern U.S., killing a dozen people and damaging more than 1,000 homes in Tennessee.
In Kansas, a reported tornado in Wichita caused damage at McConnell Air Force Base and the Spirit AeroSystems and Boeing plants. A mobile home park was heavily damaged in the city, although no injuries or deaths were reported.
Iowa emergency officials said a large part of the town of Thurman in the western part of the state was destroyed Saturday night, possibly by a tornado, but no one was injured or killed. Fremont County Emergency Management Director Mike Crecelius said about 75 percent of the 250-person town was destroyed. Some residents took refuge at the City Hall.
In Nebraska, baseball-sized hail shattered windows and tore siding from houses in and around Petersburg, about 140 miles northwest of Omaha.
Source : CBSNews.com