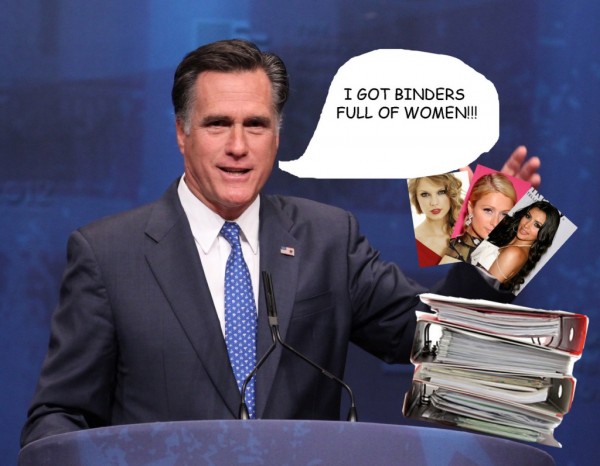 Presidential candidate Mitt Romney and President Obama were having a heated debate promoting gender quality in workplace, when Mitt Romney remarked, "I got binders full of women!".
No, we are not exaggerating here. That is exactly what Mitt Romney said and yes it was useless comment for the debate.
At the second presidential debate at Hofstra University in Long Island, New York, the two presidential candidates were asked how they would promote gender equality in the workplace.
President Obama stressed the fact that he signed the Lilly Ledbetter Act into law, which is intended to reduce discrimination against working women, while reminding the audience that he was raised by a single mother.
Romney had a more awkward response, telling the town hall audience that his staff brought him "binders full of women" to consider for jobs in his cabinet as governor of Massachusetts.
Ya, but did he ever hire even one of them? But he did brag to the world 'Hey, I got a binder full of women!'. While Obama was giving reasonable and worthwhile comments, Mitt Romney on the other hand doesn't seems to know what to tell as he has done nothing for women.
Now, let the internet Gods take care of everything. Mitt Romney's comment was an instant viral.
Here are some tweets on Mitt Romney's:
"I got binders full of women." — oy
— Sam Stein (@samsteinhp) October 17, 2012
RT @mattyglesias: If only Lilly Ledbetter had just had the wisdom to get into Mitt's binder.
— Slate (@Slate) October 17, 2012
Newt Gingrich, watching from home: "'Binders Full of Women' is a great name for my memoir."
— VANITY FAIR (@VanityFair) October 17, 2012
Too many women on Twitter. Get back in your binders! #debates
— Amanda Terkel (@aterkel) October 17, 2012
If Mitt Romney knows so much about new technology, why didn't he just get the binders filled with women sent to him in a .pdf file?
— Jake Fogelnest (@jakefogelnest) October 17, 2012
Check out the video: