A Muslim girl superhero this is what Marvel comics has planned to introduce. We introduce you Kamala Khan aka Ms. Marvel, she will make her comic debut in January with a dedicated series to launch in February.
Khan is a 16-year-old Muslim-American teenager living in Jersey City, N.J., facing the pressures of her Pakistani parents who want her to become a doctor while trying to carve out her own identity and future.
"The inspiration for the new Ms. Marvel series stemmed out of a desire to explore the Muslim-American diaspora from an authentic perspective and yet, this story isn't about what it means to be a Muslim, Pakistani or American. Those are just cultural touchstones that reflect the ever changing world we live in today," series editor Sana Amanat said in a statement. "This is ultimately a tale about what it means to be young, lost amidst the expectations bestowed upon you, and what happens when you get to choose."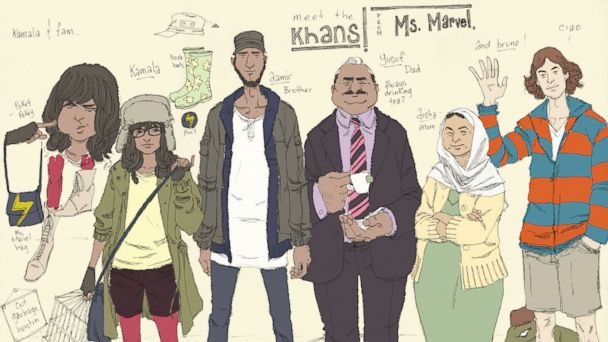 When Khan, a devotee of the blond, blue-eyed Carol Danvers, who now goes by Captain Marvel, discovers her own powers, including the ability to change shape, she takes on the code name Ms. Marvel and is sent on the adventure of a lifetime. As a superhero, she also finds herself having to sometimes break family — and religious — rules.
"I wanted Ms. Marvel to be true-to-life, something real people could relate to, particularly young women. High school was a very vivid time in my life, so I drew heavily on those experiences–impending adulthood, dealing with school, emotionally charged friendships that are such a huge part of being a teenager," series writer G. Willow Wilson said in the release. "It's for all the geek girls out there, and everybody else who's ever looked at life from the fringe."
Editor Amanat told The New York Times that the creative team is braced for some negative reactions, "not only from people who are anti-Muslim, but people who are Muslim and might want the character portrayed in a particular light."
In 2011, Marvel introduced Miles Morales, a black Hispanic teenager who took on the alter ego of Spider-Man, causing an uproar among fans who thought the white Peter Parker was being replaced. Instead Morales was part of a separate series offering a different take on Marvel characters. Morales' series is gaining fans — the September issue sold about 32,000 copies.