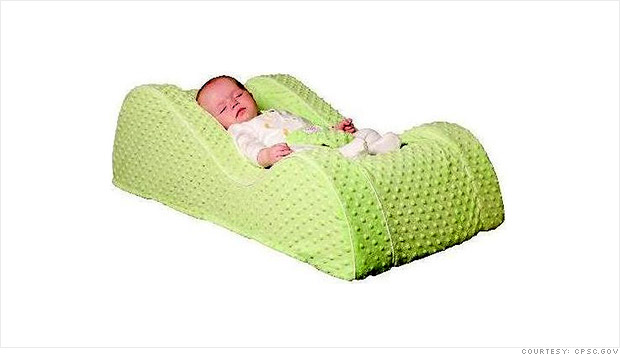 Major U.S. stores are recalling a popular baby recliner after reports of five fatalities, according to the U.S. Consumer Product Safety Commission Thursday.
Retailers Amazon.com, Buy Buy Baby and Toys R Us are recalling 150,000 Nap Nanny recliners.
The commission said the recliners have contributed to five infant deaths and contain defects in the design" that "pose a substantial risk of injury and death to infants." The recall applies to the Nap Nanny Generations One and Two and also the Chill model of infant recliners.
There have been 92 reports of infants "hanging or falling out over the side of the Nap Nanny, even though most of the infants had been placed in the harness," said the commission.
The recliners are made by Baby Matters, which is based in Berwyn, Pa. The commission said the company was "unable or unwilling to participate in the recall."
The commission filed a complaint against Baby Matters earlier this month. The product was originally recalled in 2010 after reports of one death.
Diapers.com and Babies R Us also participated in the recall.
Baby Matters was not available for comment.
The owner and founder of Nap Nanny, Leslie Gudel, said on the company's website that the commission filed an administrative complaint seeking legal authority to stop the sale of all Nap Nanny recliners "on the theory that the Nap Nanny is a hazardous product. We do not believe the complaint has merit and stand behind the safety of our product when used as instructed."
An email from CNNMoney was not immediately answered, and a call to the phone number listed on the web site led to a person claiming that it was a wrong number.
This is the most prominent recall of a baby-related product since August, when 4 million Bumbo Baby seats were recalled after 50 babies fell out of the seats, causing 19 of them to suffer skull fractures.
Source: CNN