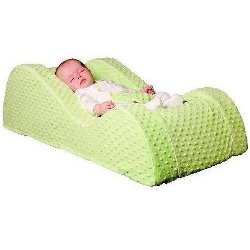 After the death of a 4-month old baby girl who died while strapped into a Nap Nanny, the Consumer Product Safety Commission (CPSC) has announced a recall of 30,000 of the popular baby recliners.
The infant, who was properly strapped into the foam-based bed, was discovered hanging over the side of the Nap Nanny, wedged between the recliner and the bumper of her crib.  According to the CPSC and Baby Matters, the manufacturer of the Nap Nanny, the recliners are not designed to be used in a crib and should always be placed securely on the floor away from any other products.
While the Nap Nanny was being used improperly in this case, it isn't the only incident involving an infant falling over the side despite being properly strapped in.  The  CPSC says they are aware of 22 similar incidents, most involving infants under the age of 5 months.
The Nap Nanny is a recliner that includes a foam base with an indention for the infant to sit in, a fitted fabric cover and a three point harness.  The recalled Nap Nanny recliners are the first generation models that were manufactured without D-rings in the foam to secure the harness straps.  If your Nap Nanny doesn't have these D-rings (see photos at the CPSC site), you should immediately stop using it and contact Baby Matters to receive a coupon for $80 off the purchase of a new Nap Nanny with free shipping.
Consumers with a second generation Nap Nanny recliner – those with D-rings attached to the foam base and Velcro straps inside the fitted fabric cover – should also stop using the product until they have visited the Baby Matters website to view new product warnings and an instructional video with details on how to properly fasten the harness.  Those who are unable to view the video online can contact Baby Matters to receive the video by mail.
The recalled Nap Nannys were sold at toy and children's retail stores nationwide and online from January 2009 through July 2010 for about $130.
For more information, contact Baby Matters by calling (888) 240-4282 between 9 a.m. and 5 p.m. ET Monday through Friday or by visiting their website at www.napnanny.com/recall.
If the recall of the Nap Nanny has you wondering just what baby products are safe to buy, you aren't alone.  The CPSC says they are working to ensure product safety and better inform parents about what products are unsafe.  Does that make you feel better?  Or have you lost faith in the Consumer Product Safety Commission's ability to ensure that what we buy won't harm our children?