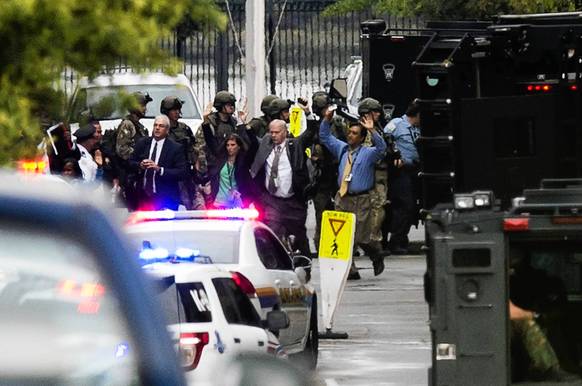 Navy yard shooting – One gunman is dead and more two shooters might be at large after a shooting rampage that killed several people and wounded other at the U.S. Navy Yard in Washington, D.C, this morning.
The one shooter was killed in a gunfight with a Washington police officer who responded to a 911 call around 8:15 A.M., the officer was however injured in the gunfight.
The shooters wore military-style uniforms on their killing spree. Police Chief Cathy Lanier revealed in a news conference at the Navy Yard. She also revealed that there are two other shooters at large.
She said the "investigation is still very active."
The shooting occurred at the Naval Sea Systems Command headquarters.
President Barack Obama said the United States is facing "yet another mass shooting." With details still emerging about the shootings at the Navy Yard, Obama said he had been briefed on the situation and that the shooting had targeted military and civilian personnel.
One hospital received three shooting victims — a man and two women. The man is a D.C. police officer, said Janis Orlowski of Medstar Washington Hospital Center. She said all three victims were alert and speaking. She said their chances of survival were "very good."
Orlowski said it was a "very fluid situation" and more shooting victims would be coming to Medstar.
At the Navy Yard, "we have multiple victims inside that are deceased," Lanier said. She did not provide a number of fatalities.
The Associated Press reported six fatalities, citing unnamed Navy officials.
The Navy Yard dates to the 18th century and is the oldest Navy installation. It houses a museum, the residence of the chief of naval operations and is responsible for weapons development, among other functions.
Several workers interviewed by CNN said they were at their desks or meetings when fire alarms went off and fire wardens told them to evacuate the building. Some said they were leaving when they saw a gunman who turned and fired on them, but missed.
One worker told CNN said he was arriving at the building shortly after 8 a.m. when he suddenly heard "bangs" and then saw people running outside. He said people were yelling, "A shooting!" and told him there was a gunman inside.
This is just one another shooting spree in America where mass shooting seems to be turning into a weekly event.