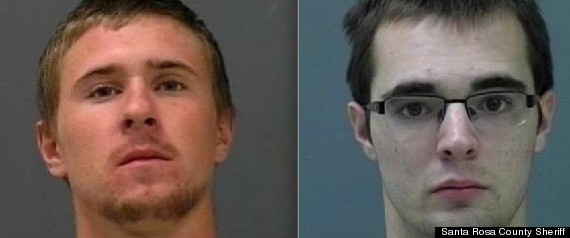 A pet turkey, Tom was butchered by their neighbor for Thanksgiving has shaken the family.
Police locked up two teens who allegedly shot and killed Tom the turkey, a beloved bird on the Caponi family's property in Santa Rosa County on Monday, according to the Pensacola News Journal.
The Caponis, who keep dogs, cats, roosters and a goat, said they're devastated that Tom was murdered.
"t's been a very rough two days," Caponi's wife Christa Caponi said on WTSP. "He was so friendly."
Brian Caponi began to worry when he couldn't find Tom while he fed the other 50 animals that the family owns, according to WALA. His fears deepened when he found a trail of blood leading to a larger crimson pool with feathers scattered in it. Tom had been kept in a pen for more than a year, Northwest Florida Daily News reported.
A search of security footage from cameras on the Gulf Breeze property revealed two men entering the grounds around 10 p.m. The footage showed a pickup truck that Caproni recognized as belonging to a neighbor who'd parked on his property recently, WTSP said.
Police tracked down the truck and found a dead bird inside. The driver, Jacob Provo, 18, eventually admitted that he'd killed the turkey with a bow and arrow. He said that he and his friend Joshua Anderson, the 19-year-old passenger in the truck, planned to butcher and eat the 30-pound bird for Thanksgiving, according to police.
Provo and Anderson were charged with animal cruelty, armed burglary, armed trespassing and theft of livestock by Santa Rosa Sheriff's deputies.