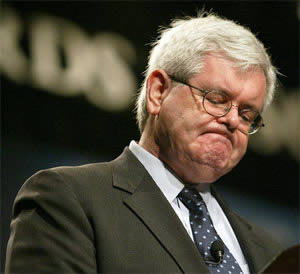 Newt Gingrich said he will take his decision on whether to continue or drop out after the Tuesday's results. Looks like he wasn't in his favor. Yahoo News has confirmed that Newt Gingrich will officially suspend his campaign from May 1.
Gingrich, who was considered Romney's chief rival at the start of the official Republican primary season in January, won two states, South Carolina and Georgia. (He represented Georgia in Congress for two decades.) The former House Speaker said earlier this week he would reassess the future of his campaign based on his support in Delaware, a state he lost Tuesday in a landslide.
The former House Speaker will continue to meet with supporters this week in North Carolina before ending his candidacy next week.
Fox News Politics first tweeted news of Gingrich's decision Wednesday morning. The former House Speaker said he expects Romney will be the GOP nominee during a stop in North Carolina, where he claimed he was campaigning as a "citizen."
Gingrich's campaign recently hit some bumps, with the candidate in so much financial trouble he has so far been unable to pay campaign vendors for their services.
According to CNN, Gingrich is likely to hold his final campaign event Tuesday in Washington, D.C., where he will make the announcement surrounded by his family and supporters.