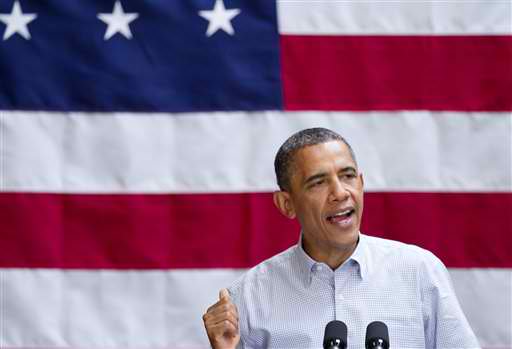 President Barack Obama is all set to win a second term as per MSN news reports!
President Obama won the 2012 Presidential Elections to seal another four year in the white house.
Obama jumped to the front of the race with a major win in the battleground state of Ohio, securing 18 electoral votes.
President Barack Obama won re-election Tuesday night despite a fierce challenge from Republican Mitt Romney as well as the weak economy and high unemployment that encumbered his first term and crimped the middle class dreams of millions.
"This happened because of you. Thank you" Obama tweeted to supporters' as he secured four more years in the White House.
The president sealed his victory in Ohio, Iowa, New Hampshire and Colorado, four of the nine battleground states where the two rivals and their allies spent nearly $1 billion on dueling television commercials.
Ultimately, the result of the brawl of an election campaign appeared likely to be the political status quo. Democrats won two more years of control of the Senate, and Republicans were on track to do likewise in the House.
Romney was in Massachusetts, his long and grueling bid for the presidency at an unsuccessful end.
Here's how it shaped up for the candidates.
Barack Obama won:Oregon, Colorado, Iowa, New Mexico, California, Hawaii, Washington, Minnesota, New Hampshire, Pennsylvania (Romney had made a last-ditch effort to secure a win in Pennsylvania in the final days of the campaign), New Jersey, New York, Michigan, Vermont, Delaware, District of Columbia, Maine, Maryland, Massachusetts, Connecticut, Rhode Island, and Illinois .
Mitt Romney won:Missouri, Idaho, North Carolina, Arizona, Utah, Arkansas, Mississippi, Louisiana, North Dakota, South Dakota, Texas, Wyoming, Kansas, Nebraska (four of the five electoral votes), Kentucky,  West Virginia, South Carolina, Indiana,  Oklahoma, Tennessee and Georgia.