Forty-four years ago, this day, Martin Luthur King was brutally assassinated  on a motel balcony in Memphis. He was just 39, but he had already transformed the civil-rights movement.
A day after his assassination, The Washington Post ran a front page story about King's death, alongside a photo of the Baptist minister with his hands clasped.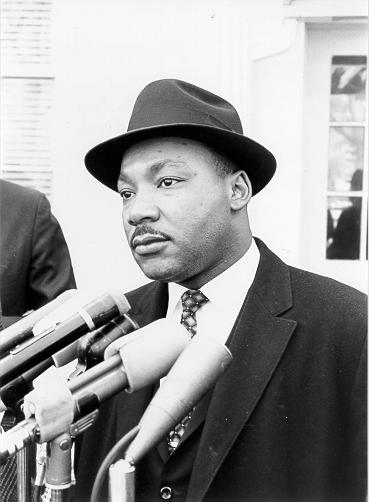 With much of the country in mourning, The Post also ran a story from the Times-Herald that began:
"Martin Luther King is the victim of a cruel and wanton act that will be deplored from one end of this country to the other. There is about this assault upon the great Negro leader the same kind of wanton senselessness that overtook the man whose tactics he emulated — Mahatma Gandhi. Men of good will, noble purpose and pacific impulses enjoy no immunity from violence, no matter how they shut it in their personal conduct."
After King's death, riots spread through Memphis. Some 4,000 National Guard troops were ordered into the city, and a curfew was imposed on the city. Meanwhile, the Times-Herald story continued:
"Let this crime become the occasion for uniting the Negro and white community in behalf of the principles of social justice, racial equality and non-violence. It would be the last and final and ultimate repudiation of everything for which Martin Luther King stood if it were to arouse racial hatred and excite the kind of violence that he deplored."
On April 4, 1968, LIFE photographer Henry Groskinsky and writer Mike Silva, on assignment in Alabama, learned that Martin Luther King, Jr., had been shot at the Lorraine Motel in Memphis. The two men jumped into their car, raced the 200 miles to the scene of the assassination, and there — to their astonishment — found that they had unfettered access to the motel's grounds; to nearby abandoned buildings from which the fatal rifle shot likely came; to Dr. King's motel room; and to the bleak, blood-stained balcony where the civil rights leader fell, mortally wounded, mere hours earlier.
"I was very, very surprised at how desolate it all was," Groskinsky, now 78 years old, told LIFE.com when asked about the mood in the neighborhood around the motel. "But then, people probably thought that the person who shot Dr. King might still be out there somewhere."