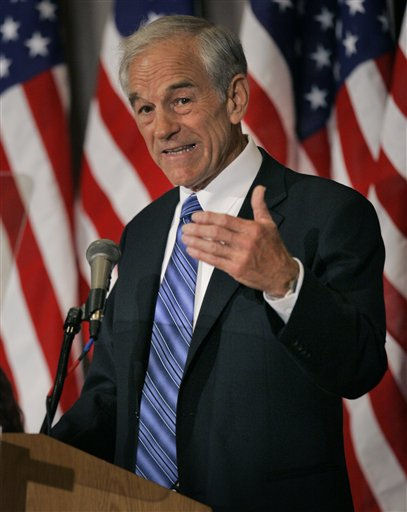 While everyone is kinda convineced that Mitt Romney is going to win the GOP nomination. The much lesser known candidate Dr. Ron Paul, who the media says should not even be considered worth acknowledging as a contestant has sold out all seats for a town hall meeting at Soldiers & Sailors Memorial Hall & Museum.
Ron Paul has also made it to Time's Most Influential People 2012.
Mitt Romney may have the money, the delegate lead and the momentum to become the Republican nominee for president, but the Ron Paul campaign keeps on rolling.
On Friday, it will roll into Pittsburgh.
Mr. Paul, the Texas congressman, will hold two events in Oakland Friday, a fundraiser at lunchtime and at 7 p.m. a free town hall meeting at Soldiers & Sailors Memorial Hall & Museum.
As of this morning, an online ticketing site for the town hall at the 2,364-person hall was offering only spots on the waiting list.
Cameron Gray, a Pitt sophomore and vice president of the school's College Libertarians group, is lucky enough to already have a ticket.
And more than that, he still has faith in Ron Paul.
"It isn't over yet," he said. "People have been calling it for Romney before anything even started, before there were any polls."
Mr. Paul's poll numbers may be low, but for years the Green Tree native has maintained an almost rock-star appeal among students and young voters such as Mr. Gray, who plans to vote for Mr. Paul in the Pennsylvania primary Tuesday.
"It's just that he's so different. He's such a non-politician," said Dave Powell, 41, of Morningside, chair of the local Libertarian Party.
His consistent, libertarian philosophy makes him "the best out there," Mr. Powell said.
But among the stalwarts like Mr. Powell, there's still some hope that the delegate count in the race for the Republican nomination could work out in Mr. Paul's favor.
"We're going to fight the good fight," he said. "That's all you can do."
That's what Harold Kyriazi, a research associate at Pitt and faculty advisor to the college libertarians group, has been doing since the 1980s, when he first became a Ron Paul supporter.
On Friday night, Mr. Kyriazi, 57, of Schenley Heights, will be in Oakland with his girlfriend and his brother.
"I'm just heartened that there's been a swell of young people learning about his ideas, and getting excited about him and his ideas," he said.
Going sold-out for something thats not entertainment is really very hard, looks like Ron Paul is going in the right direction. Will he win ? Tell Us.