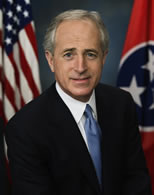 Sen. Bob Corker wants to make some real change and introduced a bill that will help tackle deficit. The Federal Government is receiving a lot less revenue then that it is spending and this bill could help make ends meet.
On Tuesday, Corker, R-Tenn., introduced a bill with U.S. Sen. Claire McCaskill, D-Mo., that would require Congress to cap all spending at a "declining level" of the country's gross domestic product over the next decade.
The bill "forces us absolutely to prioritize, so there's no question it will constrain us," Corker said at a news conference unveiling the proposal.
"The toughest thing we have around here, though, is cutting existing programs because they all have constituencies, but there's no question that this bill will force us to do it," he said.
U.S. Sen. Lamar Alexander, R-Tenn., and Georgia Republican Sens. Saxby Chambliss and Johnny Isakson are also original co-sponsors of the legislation.
"What this bill forces us to do is to look at Social Security and Medicare for the long haul," Corker added.
"This is a macro approach and if we take micro examples and try and apply them, all you are going to end up doing is creating animosity … toward looking at it in total," Isakson said.
"This bill is all about causing waves. It's all about helping Congress get the backbone to say 'no,'" said McCaskill, the bill's sole Democratic co-sponsor, who admitted that supporting the legislation could keep her from being re-elected in 2012.
"Despite their posture of making tough choices, these are 'Look, Ma, no hands' proposals," Bob Greenstein, founder of the left-leaning Center on Budget and Policy Priorities, told The Associated Press. "But make no mistake about it—they would lead to enormous changes affecting nearly all Americans."