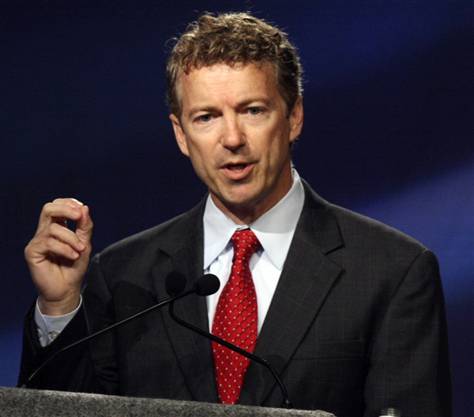 Looks like for the first time someone in the government has stepped up against the pat down search carried out by TSA in airports. Senator Rand Paul has been detained by the TSA because he refused full body pat down search after he set off a screening alarm.
"I spoke with him five minutes ago and he was being detained indefinitely," Paul spokesperson Moira Bagley told Politico. "The image scan went off; he refused patdown."
Paul's father, Texas Republican Representative Ron Paul, who is seeking the GOP nomination for president, tweeted out that there had been an "anomaly" with a body scanner.
TSA officials disputed the account. This from Politico:
The Kentucky senator triggered an alarm during routine airport screening and declined to finish the process, said a TSA official, but was "not detained at any point." A targeted pat-down is usually used to address the alarm."Passengers, as in this case, who refuse to comply with security procedures are denied access to the secure gate area. He was escorted out of the screening area by local law enforcement," the official said.

Shortly before noon, the TSA said Paul had been re-booked on another flight and went through the screening process again without incident.

After he was first stopped, Paul told The AP in a telephone interview that he asked for another scan after setting the scanner off but refused a pat-down, after which he was "detained" at a small cubicle and missed his flight to Washington.
Paul, who is widely noted for his libertarian views, has in the past been highly critical of the TSA and its search procedures. He was apparently on his way to speak at the antiabortion March for Life today in Washington, D.C.