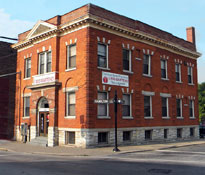 Several days of cold temperatures and a bit of snow make for a dangerous combination on Cincinnati-area roads this Tuesday morning.  Roads are slick, causing several crashes overnight and leading to the delay or cancellation of school for some kids today.
Local 12 Meteorologist John Gumm says we received just a dusting of snow to perhaps an inch in most parts of the Tri-State overnight.  There will be snow showers and flurries throughout the day.  There could be an additional inch or less of accumulation.
Roads in the northern counties have been slick since late last night.  A slick spot caused a semi-truck to jackknife on I-71 in Deerfield Township around 9 p.m. Monday.  No one was hurt but because of a fuel leak, I-71 north had to be closed until just after midnight.  There were also four crashes overnight on I-71/75 in Northern Kentucky which officials say are weather-related.  The most serious involved a car and two semi-trucks near the Florence exit.
Crews say road salt works when temperatures stay in the mid to upper teens, but if the temperatures dip much lower, road crews will have to use something stronger.  Hamilton County crews have been out treating roadways since late last night and reinforcements were called in around 3 a.m. to try and get the roads into shape for the morning commute.  Most of the main streets are wet with a few slushy spots but many side streets have yet to be plowed or treated. The conditions are leading the the decision by dozens of local school districts to cancel or delay the start of classes today.
Thursday could be more interesting.  A winter storm may bring several inches of snow in the area
The credit for the post goes to   www.local12.com