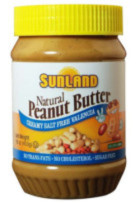 The voluntary recall of salmonella-tainted peanut and almond butter has expanded beyond Trader Joe's stores to include more than 70 products manufactured by New Mexico-based Sunland Inc., and sold nationwide.
Stores that carry products named in the recall include Target, GNC, Meijer, Whole Foods and Walmart. The almond and peanut butters were manufactured between May 1 and Sept. 24.
Thirty people across 19 states have reported salmonella food poisoning that was later linked to the contaminated nut butters, according to the Centers for Disease Control and Prevention. One of those cases was in Illinois. About two-thirds of the illness were reported in children younger than 10.
Salmonella symptoms include nausea, diarrhea, vomiting and abdominal pain. It can cause particularly nasty infections in the very young or old and people with weakened immune systems.
If you purchased a product that appears on the recall list, either throw it out or return it to the store for a full refund.