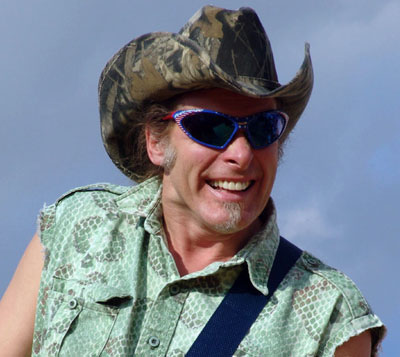 The Army has canceled Ted Nugent's performance who was scheduled to perform at an Army base in Kentucky. Ted Nugent is in trouble ?
Ted couldn't just control his mouth and recently blabbered that he would be "Dead or in jail" if President Barack Obama was re-elected.
Like all bad comments, especially bad comments against the President caught the attention of the media and was a hit instantly.
"After learning of opening act Ted Nugent's recent public comments about the president of the United States, Fort Knox leadership decided to cancel his performance on the installation," according to an announcement posted Saturday on the base's Facebook page.
"Army Entertainment and the Fort Knox Directorate of Family and Morale, Welfare and Recreation remain committed to carrying out the June 23 concert, and the possibility exists that a replacement will be selected," the announcement said.
On Thursday, the Secret Service said it resolved questions regarding comments that Nugent, a conservative activist and gun rights advocate, made about Obama during a speech at an NRA convention in St. Louis, Missouri.
"If Barack Obama becomes the president in November again, I will either be dead or in jail by this time next year," Nugent said, according to a video that the NRA posted on YouTube. "If you can't go home and get everybody in your lives to clean house in this vile, evil, America-hating administration, I don't even know what you're made out of."
The video has since been removed.
Nugent is yet to respond on the cancellation of his show.