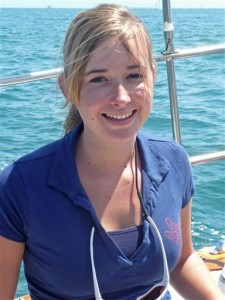 Abby Sunderland may have just set the country on fire by being lost at sea. We all know how important it is for an AMERICAN like her to go missing. The 16-yr old is trying to become the youngest to ever sail around the world:
TV satellite trucks were beginning to gather outside the modest Thousand Oaks home…… where teen sailor Abby Sunderland lives with her parents. Occasionally, reporters would knock on the front door of the home covered with ivy and geranium. But no one answered.

Students from nearby Thousand Oaks high school walked down the street wondering why news trucks were here. Gage Guzman, 17, said he hoped that Abby would be found safe. "She's younger than me and she's sailing around the world, and by herself, that's even crazier," he said. "She's brave, I don't even go into the ocean by myself."

Guzman's younger brother, Shawn, 15, said he didn't think her attempt to sail around the world was reckless. "If it's her dream to sail, and she wants to follow her dream, that's courageous. "

Sunderland, out of necessity, abandoned her quest to become the youngest person to sail around the world alone, nonstop and unassisted. However, the 16-year-old was continuing her mission to become the youngest person to sail around the world.

Sailing experts said the Southern Indian Ocean where Sunderland was sailing when she apparently signaled emergency beacon locating devices on Thursday is known to be a difficult challenge. Charlie Nobles, executive director of the American Sailing Assn., said that winter storms in the Southern Hemisphere are fast approaching, creating rough waves that can reach dozens of feet high. He also said that there are fewer hours of light during the day, which can make navigating the waters difficult.

"There's just not a lot of land in that part of the world," Nobles said. "You have to follow certain patterns because you need the trade winds. Where she is right now is in between Australia and South Africa."

Sailors had criticized Sunderland for leaving so late in the year for her journey. She departed from Marina del Rey on Jan. 23, later than she had wanted to because of equipment issues. She also had to make a stop in Mexico to make repairs, which wasted precious time before the approaching winter southern storms.

Nobles said that sailing around Cape Horn between South America and the Antarctic Peninsula was speculated to be Sunderland's greatest challenge. But she rounded the cape in April without many issues, he said.

"A lot of people talk about the Horn because that's what you hear about in National Geographic specials," Nobles said. "But it wasn't that big of a deal, fortunately, for her."

Shortly after setting sail, Sunderland abandoned her quest to become the youngest person to sail around the world alone, without any stops or assistance.

"I don't know enough facts to know whether this is something she necessarily could have avoided or if it was a bad decision," Nobles said. "My hope was that if she was at a certain point in her journey, she would say, 'I'm less concerned about a record than to try to make it through safely.' "

Abby Sunderland's brother, Zac, last year completed his solo sail around the world at age 17.

Sunderland's latest entry on her blog Wednesday described hitting rough weather and winds at 45 knots. "Wild Eyes was great through everything, but after a day with over 50 knots at times, I had quite a bit of work to do," she wrote about her vessel.

Her parents have said in news reports that they had persuaded Abby to get to the nearest port in the event that dangerous conditions arose.
Someone better get Obama on the phone…