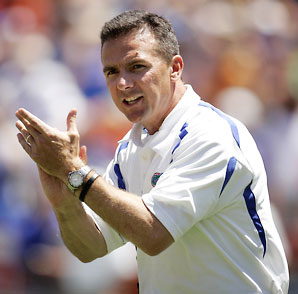 Just recently the head coach of  Florida university Urban Meyer dropped a huge bombshell to the fans  by announcing  his resignation from the football team.
It sure brought a great disappointment. The man who brought fame by making his team win 2 championship in his early 4 years of appointment as coach  is something people cant forget.
As huge speculations started on why did Meyer announced his resignation, the result was obviously the one factor that is  "Poor  Health Conditions"
To everyone's surprise, Urban Meyer came out today saying  " His resignation is turned down to indefinite Leave of Absence" . In my view, everything is Ok unless he not resign.
Also on hand for the press conference were athletics director Jeremy Foley, senior quarterback Tim Tebow and senior linebacker Ryan Stamper.
"First and foremost we're concerned about Coach Meyer taking care of, and addressing his health," said Foley. "For the last five years I've seen his relentless approach to everything he does. Now is a time, however, for him to take care of himself.