An US Citizen of Vietnamese origin has been detained in Ho Chi Minh City and is being accused of terrorism. He is accused of planning a protest to disrupt the anniversary of the fall of Saigon.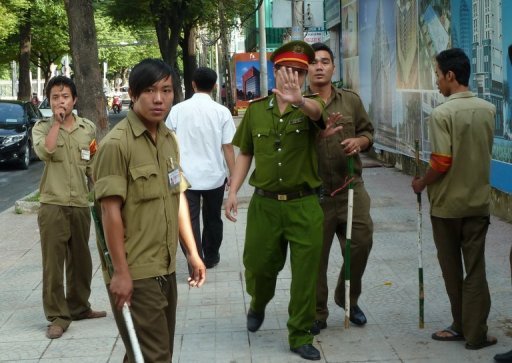 Nguyen Quoc Quan was arrested April 17 in Tan Son Nhat airport "trying to enter Vietnam to instigate a demonstration and undermine celebrations", the Vietnam News Agency (VNA) said late Saturday.
April 30 marks the 1975 fall of the southern regime in Saigon, the former name for the southern city, when the United States had to pull out its combat troops, heralding the end of a decades-long conflict.
Quan, also known as Richard Nguyen, will be detained for four months pending an investigation for the charge of "terrorism against the people's administration", which could lead to a death penalty if convicted.
Communist Vietnam, however, has never executed a foreign citizen for political charges.
The 59-year-old, a member of the outlawed Viet Tan Party, received a six-month jail sentence for terrorism charges and deported out of Vietnam in May 2008, VNA said.
Viet Tan, the Vietnam Reform Party, describes itself as non-violent and pro-democracy but Vietnam labels it "terrorist".
"The Vietnamese government's accusation of 'terrorism' against Quan — a doctorate of Maths at the North Carolina State University — is completely fabricated and has no basis," said the Viet Tan party in a statement received by AFP.
"Quan and all other voices of conscience must be released immediately and unconditionally," it continued.
The US Embassy was not immediately available for comment.
Earlier this month Vietnam police arrested 41-year-old fish farmer Vo Viet Dzien for plotting to overthrow the state and disrupt the same anniversary.
He was said to be involved with little known US-based Restoration Party, a banned pro-democracy group.
Rights campaigners say the accusation that a group is conspiring to overthrow the state is regularly used to silence dissidents in authoritarian Vietnam, where the communist party limits political debate.
Early this month, Vietnamese prosecutors also accused 18 members of a little-known "reactionary" group of the same charge.
In January, New York-based Human Rights Watch said that Vietnam "intensified its repression" of dissidents last year, jailing dozens of bloggers, peaceful political and religious advocates and land rights activists.