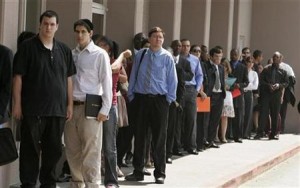 According to data published by the U.S. Bureau of Labor Statistics, unemployment rate in Wisconsin was 9.8% in March.
State labor officials also noted that in the month of April, over 16,000 jobs were added. This was the largest one-month gain in over a decade. The state has added over 32,000 jobs in the first four months of 2010.
In a pre-written statement released by Department of Workforce Development Secretary Roberta Gassman, "With the support from our federal partners and the leadership of Governor Jim Doyle, Wisconsin is focused on helping businesses create jobs and providing workers across the state with opportunities to get those jobs."
In the statement, Secretary Gassman also thanked the Obama Administration and Congress for allocating money to the state of Wisconsin. Gassman further thanked the Administration for the America Recover and Reinvestment Act to help curb the state's unemployment.
Source :   uschron.com