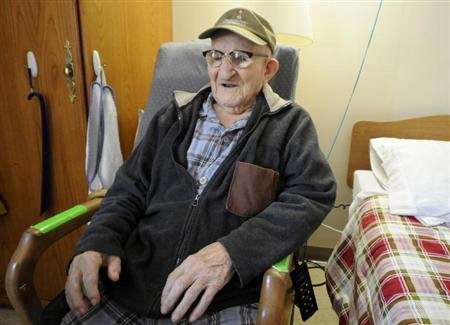 World's oldest man died today at the age of 112. Salustiano "Shorty" Sanchez has been recognized by the Guinness World Records as the world's oldest man, he died on Friday at a nursing home in Grand Island, New York, the M.J. Colucci & Son Funeral Chapels has revealed on its website.
Salustiano Sanchez has been the world's oldest man since June after the death of 116 year ols Jiroemon Kimura of Japan. Salustiano Sanchez was a retired construction worker.
So what the secret of his long life? Sanchez credited his longevity to eating one banana per day and taking Anacin daily, according to a recent Guinness online profile.
He told Guinness that living so long was not a special accomplishment.
Sanchez was born in El Tejado de Bejar, Spain, in 1901 and worked as a sugarcane field worker in Cuba before emigrating to the United States, where he found work in Kentucky coal mines.
Sanchez liked to garden, do crossword puzzles, and play gin rummy every night with friends, according to Guinness.
Sanchez was known for his musical talents as a boy, playing a dulzania, a Spanish double reed instrument related to the oboe, Guinness said. He went to school until age 10.
Sanchez moved to the Niagara Falls area of New York state in the early 1930s and became a construction worker. He worked for Union Carbide Co for more than 30 years before retiring.
He married his wife, Pearl, in 1934. Sanchez had two children, seven grandchildren, 15 great-grandchildren and five great-great grandchildren, according to Guinness.
With his death, the world's oldest man is Arturo Licata of Italy at 111, and the oldest woman is Misao Okawa of Japan at 115, according to the Gerontology Research Group, which tracks people 110 and older and validates ages for Guinness.
The greatest authenticated age for any human is 122 years, 164 days by Jeanne Louise Calment of France.