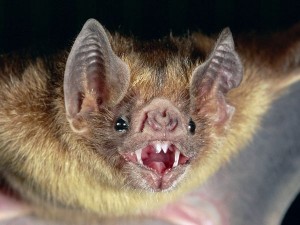 A migrant farm worker from Mexico who died in 2010 was the first human ever to die in the US of rabies transmitted by vampire bat, health officials say.
The 19-year-old died last August about three weeks after he was bitten on the heel by a vampire bat while sleeping in the Mexican state of Michoacan.
Doctors in the US state of Louisiana, where he went to work on a sugar cane farm after the bite, diagnosed rabies.
He had no known vaccination against the disease, US health officials reported.
According to a report in Morbidity and Mortality Weekly, a publication of the US Centers for Disease Control and Prevention (CDC), the unnamed worker was bitten on the left heel by the bat on 15 July 2010.
He departed for the US 10 days later, arriving at a sugar cane plantation in Louisiana on 29 July.
The next day he went to hospital, complaining of fatigue, pain in his left shoulder and numbness in his left hand, which he attributed to overwork.
He was transferred to hospital in New Orleans, where his condition deteriorated rapidly until he died on 21 August.
A post-mortem examination showed that he had been infected with a variant of rabies that comes from vampire bats.
The man fell ill only 15 days after being bitten, whereas the median incubation period for rabies in the US is 85 days, the CDC reported.
The man's mother later told health investigators he did not seek medical attention for the initial bite.
"This is the first reported death from a vampire bat rabies virus variant in the United States," the CDC reported.
But the study notes that vampire bats are the leading source of rabies infection in Latin America.
Separately, officials at the CDC are searching for passengers who travelled on a plane from Wisconsin to Atlanta a week ago accompanied by a stowaway bat.
The bat briefly entered the cabin and flew among passengers before escaping, meaning health officials were unaware whether it was carrying rabies or not.
via BBC