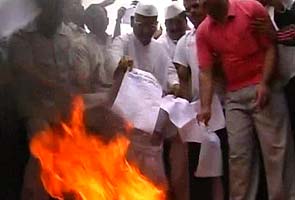 India's Veteran Social activist Anna Hazare burns down Government's version of Lokpal bill in Pune this Thursday, terming the Lokpal Bill as  "Anti Common Man".
Anna Hazare feels the anti-corruption legislation tabled in its present form in Parliament, would not be able to deal with corruption and demands the inclusion of the office of the Prime Minister, higher judiciary and the conduct of lawmakers inside Parliament in the Lokpal Bill.
Government Version of Lokpal Bill
The Bill envisages the setting up the institution of Lokpal, consisting of a chairperson and eight members, with the stipulation that half of the members shall be judicial members.
It will have its own investigation wing and prosecution wing with such officers and staff as are necessary to carry out its functions.
The Bill provides that Lokpal shall inquire into allegations of corruption made in respect of Prime Minister, after he has demitted office.
It also authorises inquiry against a Minister of the Union; a Member of Parliament; any Group "A" officer or equivalent; Chairperson or member or officer equivalent to Group "A" in any body/ Board/ corporation/ authority/ company/ society/ trust/ autonomous body established by an Act of Parliament or wholly or partly financed or controlled by the Central Government; any director, manager, secretary or other officer of a society or association of persons or trust wholly or partly financed or aided by the government or in receipt of any donations from the public and whose annual income exceeds such amount as the Central Government may by notification specify.
However, the organisations created for religious purposes and receiving public donations would be outside the purview of Lokpal.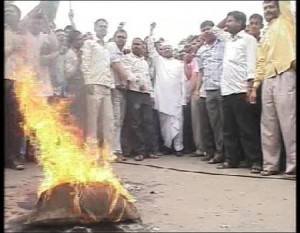 The Lokpal shall not require sanction or approval under Section 197 of the Code of Criminal Procedure, 1973 or Section 19 of the Prevention of Corruption Act, 1988, in cases where prosecution is proposed.
The Lokpal will also have powers to attach the property of corrupt public servants acquired through corrupt means
Anna Hazare Stand
"This government has lied, and cheated us. They had said earlier that both (the Joint Drafting Committee's and the government's) drafts would be tabled before the cabinet. However, they have tabled their own draft," he said.
"I want people to burn this version, since this bill won't stop or end corruption," he added.
"This government doesn't want to end corruption; it doesn't want to end injustice. It is difficult for people to survive in such a scenario. Hence they have brought in a weak LokPal Bill," he said.
Anna Hazare has again vowed to start an indefinite fast from Aug 16, 2011. I dont think, Indian Government will be soft  towards  him this time around.
Whats your stand on the latest development between Anna Hazare and Government? Share with us your thoughts on the whole issue.